What are featured snippets?
Wow, you've just seen a competitor's featured snippet and now you are thinking, what are featured snippets and how do I get one?
Answer: A featured snippet is an automated algorithmic response to your content. Google's bots have automatically decided that the content is worthy of a featured snippet, this is automatically applied to your page and the content is singled out as the piece of content that most appropriately answers the search query.
What does a featured snippet do?
It is a boxed, highlighted piece of content with a featured image - It will improve your page's conversion by up to 2 x the normal conversion - Reference Neil Patel's article. Google singles out the content and gives it priority positioning above organic returns. (Position 0) This is a fantastic opportunity to be rewarded for great content and shows that making the effort to provide answers to questions will help your site and relevance to your niche.
How do I get a featured snippet?
You cannot guarantee one, it is Google's automatic reward for preparing good content that best answers the question. SEO Norwich has been awarded a featured snippet for Gambling SEO Companies, this was added to the search results just one week ago.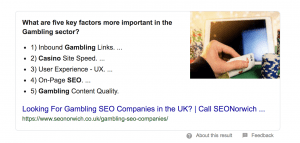 How can you improve your chances of being featured for snippets?
To increase your chances of being featured on Google, you must provide a reply to a specific query, one which has some search queries attached to it. If you discuss the subject and the opportunities around it before defining what it is, then you will most likely increase the likelihood that you will be accepted for a featured snippet and present highly on the search engines.
Great content
Answer a question
Reference other related material
Show depth of knowledge
Provide value to the user
Give tips or advice
Use a natural language
Why are snippets so good for your clients or your business?
They are great because they demand attention and pull through an image which will also add to the conversion level of the search result, so when you choose an image to partner your page, consider the naming convention (see image SEO) and consider the image content itself. As an authority, you are also more likely to receive natural inbound links as people reference your content.
Summary
A good practice is to write content that answers a question - If I am searching for your business, what makes me want to read your content and potentially get in touch? If you would like to consult on this and your content strategy, then please contact SEO Norwich for more information.