How to get a blog post for Norwich Signs to rank
The Challenge to rank Norwich Signs for Marketing Norwich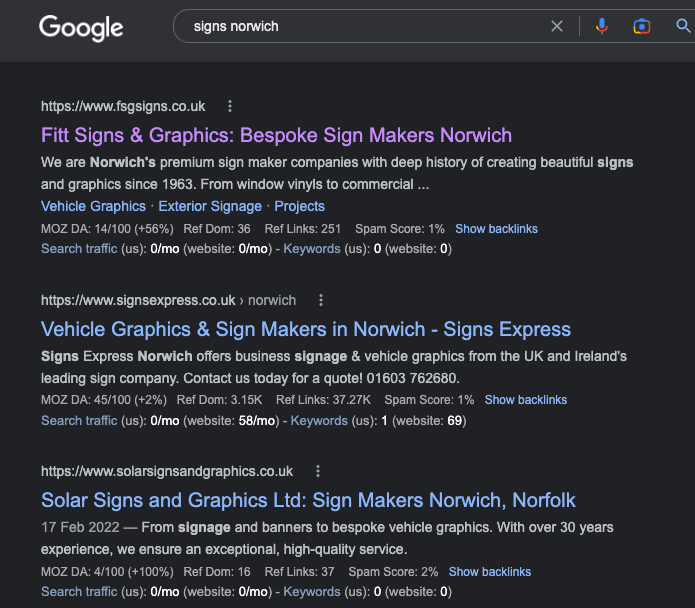 We received a call from a local sign company that was interested in ranking their website, and we provided a quote. So now, we are now providing some hard evidence to show how we can help their business to outperform the competition. 
What we did to start the experiment. 
We started by creating a blog post on the topic of Norwich Signs and then answered questions on the topics of sign manufacturing for both interior and exterior signage. The article is listed on a Norwich-based website, which already has some age and ranking for Norwich-based terms. With this in mind, it should help us to see if this works.
What is next on the task?
The next step is to add the new keywords into Rank Tracker and monitor progress, it allows us to see how things start to move, then we can assess the next steps in the process of showing the client the ability to get his site to rank, but using optimisation and improvement of his content.
Timeline expectations?
It is always difficult to provide a client with a lead time. With this particular test, we have strategically managed some of the places we have listed references to the site, so this means that we are using Norwich domains and sites that are already prominent to help indicate the locational value to the SERPs when they interpret the query.
What about when it's ranking?
Once it is ranking, we will share the results with the prospective client to show our SEO skills and as proof that we can help him. His website design is pretty decent, although not by us, it uses a modern platform CMS and the site's general performance is good, so we are already confident that there is work we can do that complements their website.
Can we make a prediction on where it will get to just for fun?
Yes, we hope that we can cheekily land our blog post into a top 10 position in about 2 weeks, just for the annoyance of the established sign companies based in Norwich. Fingers crossed the content we wrote on the blog is of sufficient quality to be rewarded by the SERPs and we can get some idea of amount of effort required for our local SEO strategy.