What is Seasonal SEO and why is Christmas so important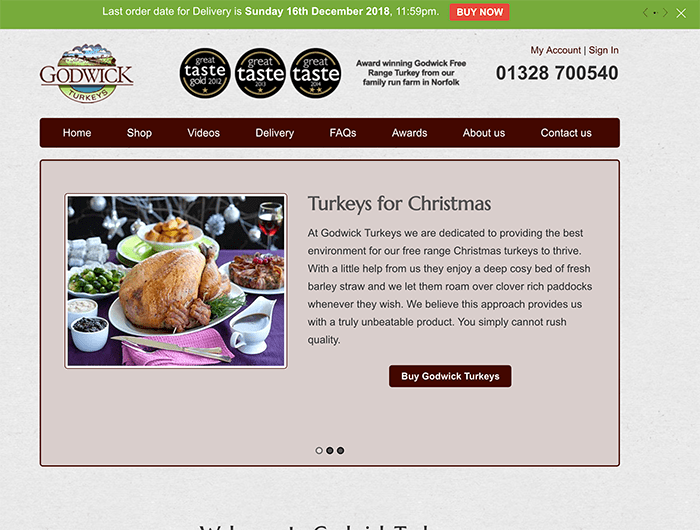 On this page, we look at what seasonal SEO is and how some companies rely on the uptake of purchases for a small period of time during the Christmas period.
What is Seasonal SEO?
Seasonal SEO is a very focused search engine optimisation and increased efforts to ensure that a business gains improved visibility around specific periods of time. The main period during the year might be fireworks leading up to November the 5th, or toy shops for Christmas.
Good seasonal SEO will help the seasonal business to expose themselves to the best opportunities during the seasonal searches, sun cream in the summer for example. There are many big opportunities for sales in the year none more than Christmas.
How would you promote your Christmas Turkey company
If you are a Turkey farmer like Godwick Turkey's then your window for maximum sales during a 12 month period hinges around seasonal success. You therefore need to prepare yourself for the dual which is online marketing and SEO during this period, the rise and fall of online business can be forged through SEO during key periods. So how do you promote your christmas business through this period.
Approach your existing customers early, promote your product to them and remind them why you should be their first choice.
Position your product correctly, clearly identify your market - Godwick Turkeys is mostly the more assertive, affluent client that appreciates the finest free range Turkey, beit a Norfolk bronze or black.
Start your SEO planning ready to get out of the blocks fast, gain good quality backlinks to enhance and encourage rank signals and show value to google.
Do a website audit, ensure that your site is fast, functioning, not missing important Alt text or HTTPS for example
Get on the blogs and social media
What companies need to maximise seasonal SEO?
There are many businesses that need to compete during the winter months on the lead up to Christmas, none more than the butchers and farmers. If you are looking for a good example of a company, consider Godwick Turkeys promoting  free-range turkeys for sale.
Clearly, products like Turkeys which are being sold online and which have a short seasonal life have to maximse their marketing budget and presence on the lead up to the delivery cut-off, the last day someone could buy the product.
How could you conquer the online Turkey sales if you go against the big boys?
If you were a small independent Turkey Farmer trying to make an impact then it is important to channel your efforts into the right areas, don't fight for the big boy SEO terms which are drawing in the general public, a Godwick customer profile is much more high-class and well to do, their budgets tend to be higher and they would tend to comeback year after year.
Make sure you give enough warning and then carefully approach the main focal keywords. Go for more specific terms like free-range Norfolk Turkeys