What is local SEO and how can you dominate the SERP'S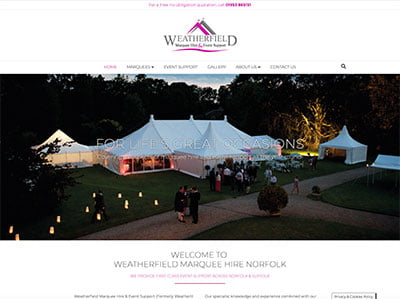 So what is local SEO? Well, local or geographical SEO is search engine optimisation focused around your physical location. It revolves around showing the search engines that you are relevant to the local search queries and that you are providing the best services for searches conducted in that location.
How can you prepare your website for local SEO?
Use directories
Firstly it is always good to utilise directories that can point location referencing links to your website. They will often include location categories in the URL structure, such as norwichdirectory.com/norfolk/marquees/yourlisting - This kind of URL structure provide indications to Google's algorithm that you are a local business that is highly relevant to the search query. Google and the other search engines are designed and poised to provide the right and most appropriate websites to the user to improve their experience and ultimately give the best service they can.
Partner with local websites
In the same way, a local directory works, if you do a mutual exchange or one-way link from another local business which is already ranking for local traffic in their market, then, of course, this will make you much more relevant to local traffic. It will be a small but incremental indication of the SE's.
How are others doing local SEO?
If you look around at other companies that are ranking for local terms, you will see that they include conditions in their metadata like Norfolk or Suffolk, this gives some reference to the areas they consider themselves most relevant. If you were to look at a local marquee company, they might use Marquee Hire Norfolk, in their website meta, but also their H1 tags. Weatherfield Marquees is an excellent example of a business that is doing this with their pages and structures to help localise their website visitors.
What are the benefits of local search?
It is clear to most that the benefits are in fact that the people searching fit your ideal customer profile - They are also searching in your preferred and often optimal location, meaning that travel costs are kept low; usually, you can minimise effort between jobs or see more clients in one day.
One of the other overlooked benefits is that the customers who find you in an optimal location like Norfolk more easily convert from browser to enquiry and then with the right product or service into a customer.
Local SEO also gives better customer lifetime value
A local customer is more likely to have a higher lifetime value to your business because they nearly always have a higher return or repeat business rate. This means that they will buy from you more frequently or have an increased need for your service such as a landscaper.
Using a local search engine company
By choosing a local SEO partner like SEO Norwich, you can gain local knowledge, local relationships and access to other local businesses. This is especially relevant to companies like landscapers in Thetford, or boiler installers in Watton, who can survive well with some targeted traffic from quality local search.